Moody Mansion Is Open 7 Days a Week, 10 a.m. to 5 p.m. (last tickets sold at 4 p.m.)

Self-Guided Audio Tour:
Adults $15
Students age 6 through 17 $7 • Children 5 & Under Free
Family Package: $34 (includes admission for 2 adults and 2 students, a savings of up to $10; additional adults and students in the family pay normal admission prices)
Courtesy AAA and AARP discounts for self-guided audio tour; please show membership card to qualify.
Guided All-Access 125th Anniversary Tours:
$35/Person • Fridays & Saturdays
FACE MASK REQUIRED:

The State of Texas requires masks to be worn by all guests 10 years or older entering all businesses. We have one for you if you do not have one of your own.
LOCATION

2618 Broadway – Galveston, TX 77550
Moody Mansion has instituted free weekly "Senior Hours" to help local senior citizens safely cope with the stress of isolation during the COVID-19 pandemic.
Avoiding infection is important, but mental health is important, too, and some people are experiencing loneliness, depression and fear of leaving their homes. We invite them to make reservations by calling (409) 765-9770 and be our guests.
On Thursdays, August 6, 13, 20 and 27, Galveston Countians age 60 and better will be admitted free into the mansion with enhanced safety precautions:
The mansion will be open exclusively for elder Galveston Countians from 8:30 to 10 a.m., before other guests arrive.
A maximum of 75 people will be admitted during those hours. Advance reservations will be required.
Strict face mask and social distancing policies will be in place. Masks will be provided for people who don't have them.
Hand-sanitizing stations are located on the mansion grounds.
The mansion will retain its "no-touch experience," meaning guests do not need to touch anything while listening to a recorded narrative on a self-guided tour.
Admission is free, though contributions to the Galveston Children's Museum will be welcome.
Call 409-765-9770 for reservations.
Restored to its turn of the century splendor, this 28,000 square-foot, four-story Galveston historic home was completed in 1895. The home has been listed on the National Register of Historic Places by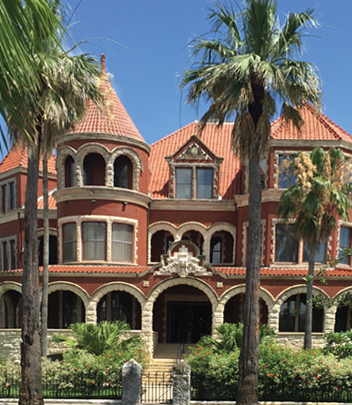 the U.S. Department of the Interior since 1994 and a Recorded Texas Historical Landmark since 1967.
Today, our guests visit 20 rooms on a tour that depicts the home life of a powerful Texas family. The Moodys established one of the great American financial empires. Based on cotton, it grew to include banking, ranching, insurance, newspaper publishing, railroading and hotels.
W.L Moody Jr. bought the Galveston Broadway mansion from the heirs of the original owners soon after the Great Galveston Storm of September 8, 1900. It was designed by British architect William H. Tyndall and decorated by the world-famous interior design firm of Pottier & Stymus of New York.
Mr. and Mrs. Moody and their four children celebrated their first Christmas in the house in December of that year, just three months after the 1900 hurricane. The house remained home for Moody family members until 1986. Today, its rooms are filled with the furnishings and personal effects of the family.
The philanthropic legacy of the Moody family of Galveston is carried on today by the Moody Foundation and the Mary Moody Northen Endowment. Both charitable foundations are major forces in health care, education, historic preservation, and the arts.
TAKE OUR REMOTE TOUR: As an educational and informational service to our visitors during this time of isolation to fight COVID-19, we have created a video of a Moody Mansion tour. Please CLICK HERE to take the tour.
You may also view our ORIENTATION VIDEO about the Moody Family's history: CLICK HERE.
Moody Mansion is the Travel Channel's most famous in Texas!
Moody Mansion has been listed as one of the most famous historic houses open for tours in the nation by the Travel Channel. To see our listing, go to Travelchannel.com and scroll to Texas, then come visit Moody Mansion!
Gather a group: Moody Mansion offers discounts for groups. Contact for details.